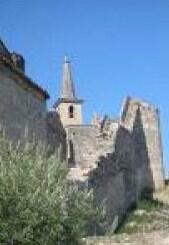 Les Remparts de Caumont
Historic site and monument,
Historic patrimony,
Rampart
in Caumont-sur-Durance
The ramparts in Caumont were built in the 14th century, and had at least 5 entrances. These entrances were known as the Porte de Cavaillon, the Porte d'Avignon - demolished in 1875, the Porte du Thor, the Porte de Gadagne, and the Porte des Pénitents, which was finished later by the Marquis known as the Marquis of the New Entrance.

A watchman's round went around the entire rampart, protected by 2 low walls.
Environment

Spoken languages