Le Castelas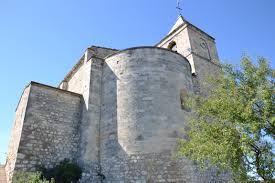 This was the first parish church, named after Saint Bardulphe. It existed in 1195 and was stated on the list of possessions belonging to the Abbey of Saint André in Villeneuve.
Romanesque style, reworked in the 16th century. The vaulted choir dates from the first half of the 12th century. The set of mural paintings is outstanding, and dates from 1608. The nave still has its holy water font, but it no longer has the Baptismal basin, which today is in the village church. Two bells remain. The western bell cast in 1641 and the Southern bell cast in 954.

In the year 1189, Bishop Rostaing from Avignon gave the church of Saint Bardulphe to the Benedictine abbey Saint-André de Villeneuve. The North chapel was dedicated to the worship of Saint Alzias and the South chapel, through which you enter, is devoted to the Blessed Virgin Mary.
In August of 1562, Lutherans and Calvinists won over the region. Churches were destroyed. François de Beaumont, better known under the feared name of the Baron des Adrets, ravaged Southeast France. Infamous for his cruelty, he was deemed to have been responsible for many massacres and in his frenzy to free Montpellier from a terrible siege, he is said to have destroyed the churches in Saze and Aramon. Fires were frequently set during the wars of religion and more intensely in the last third of the 1500's.Historians think that Le Castelas was rebuilt with stones from the fortifications of the city, destroyed by order of Richelieu in 1623.
Between 1595 and 1634, restoration work took place and the bell tower was built in the shape we see today. Despite this work, and many petitions from the
inhabitants of the Abbey of Saint-André, the church continued to deteriorate.
In 1729, the Chapel of Saint-Joseph was built at the behest of Pierre Palijay, a leading citizen from Rochefort. Prayers were addressed to Saint Bardulphe here, until the new church of Saint-Bardulphen or Lower Church (the current church) was used by the faithful. This was the beginning of the end of the Church of Le Castelas. It was leased to farmers, it was used to store hay, and when "city water" arrived in Rochefort, in 1963-1964, the town turned the old church into a water tower. The Vaujus spring supplied the water and filled tanks that could hold 250 m3 that then supplied the houses in Rochefort. This system was destroyed in the 1970's. in the early 2000's, Le Castelas was turned into a meeting room and a performance hall. In 2013, it was put on the list of Historical Monuments and in 2015 Le Castelas, and its painted murals, were restored.
Le Castelas
Montée de la vieille église
30650 Rochefort-du-Gard
Spoken languages : French