Canal Puy Itinerary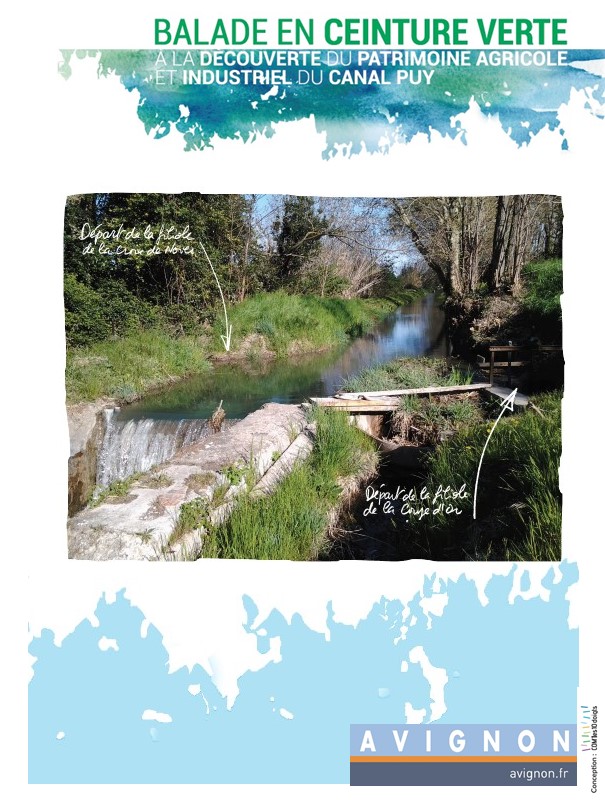 This project won the prize for the 2017 participative budget. This Canal Puy itinerary proposes a cultural and historical itinerary in the green belt and especially the Canal Puy.
There are 4 itineraries with informative panels that describe this hydraulic structure, its different components and the agricultural tradition of the green belt in Avignon. There is also an exhibition on the history of agriculture in the Moulin Notre Dame.

This project was proposed by the non-profit 'Le Moulin Notre Dame' to offer a cycling itinerary or a walking itinerary on the water's edge in the Green Bel. These itineraries introduce you to the site and its history, with the 8 little bridges that span the canal.

The trail:
The Canal Puy was started up in 1810 after 4 years of work. It wa built at the initiative of Mr. Guillaume Puy, mayor of Avignon between 1795 and 1815. The objective: divert the water from the Durance river to fertilise and irrigate adjoining fields. There are walks along the Canal Puy and the Durance river, the members of the 'Association le Moulin de Notre Dame' accompany you to help you discover the landscapes and the agriculture, of the past and present, in what is now the green belt around Avignon.
We will discover the recently-installed panels that describe what we see. The panels present four different walking or cycling paths: shady path that explores farming history and heritage, a detour on the Chemin des Cris Verts, continue on to the former water inlet, and an interesting detour amidst rural vestiges and modern-day industry.

- Trail 1: Shady paths to discover the agricultural heritage – Distance: 5.8 km - Walking time: 1 1/2 hours.

- Trail 2: Chemin des Cris Verts and Chapel of Saint-Gabriel – Distance: 2.5 km - Walking time: 40 min.

- Trail 3 : Continue to La Grande Martelière - Distance : 2.8 km - Walking time: 40 min.

- Trail 4 : Take a detour amidst rural vestiges and modern industry - Distance : 6.3 km - Walking time: 1 hour and 40 minutes.
Canal Puy Itinerary
Ceinture verte
84000 Avignon
Opening : All year round.
Spoken languages : French