Collegiate Church of Saint John the Baptist and Saint John the Evangelist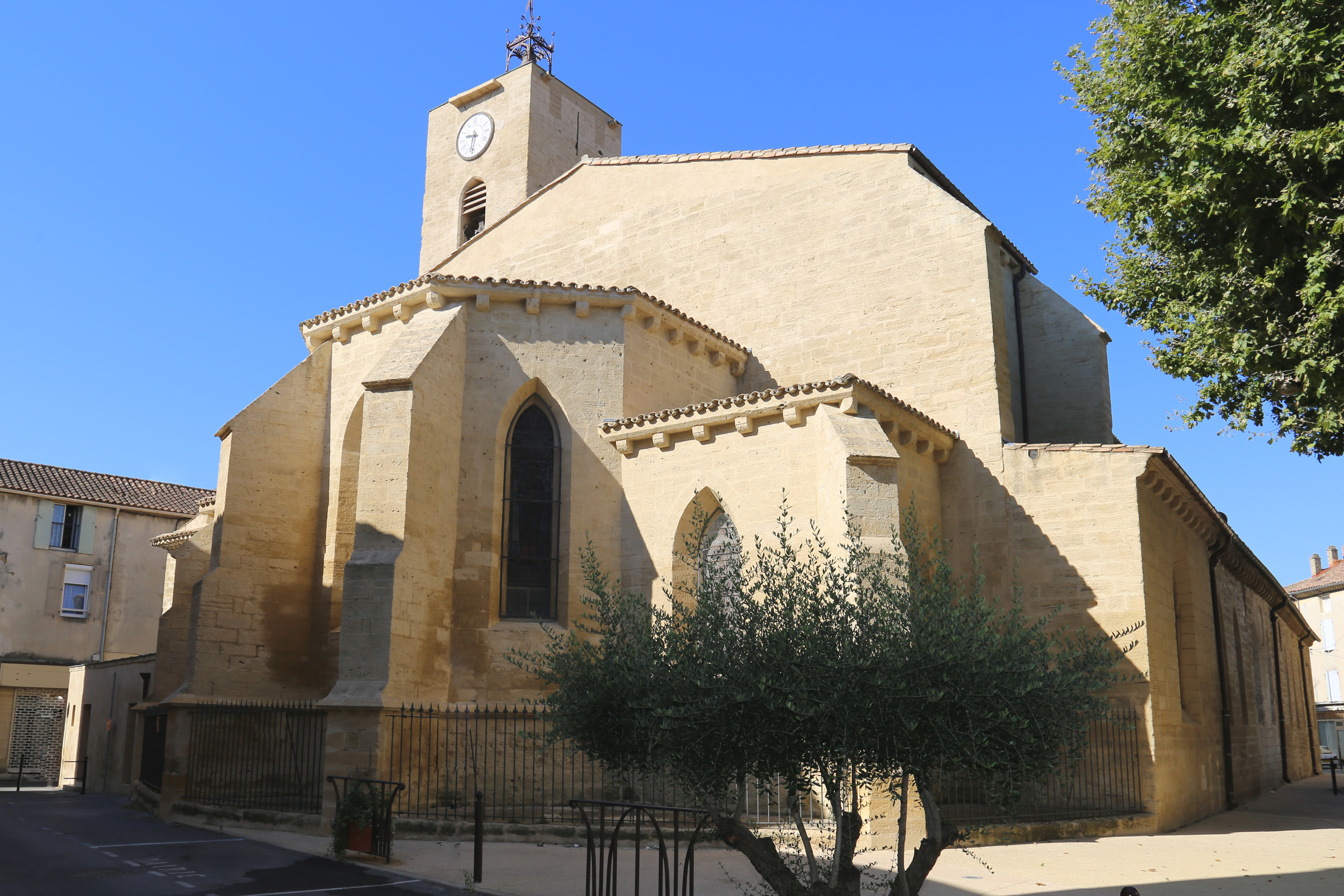 The collegiate church is Southern Gothic architecture, built in the 14th century outside the walls in the King's garden.
The church is a fortified church and the current belltower was once the watchtower.
The massive construction with flying buttresses gives no indication of its elegant interieur.
The technical prowess of Gothic architecture style enabled churches to rise to great heights through the innovative use of ribbed vaults that redistributed stresses.
This church was started under Cardinal Bertrand de Pouget and construction began in 1329. In 1346 the church was raised to the rank of Collegiate church. Ten canons lived on the current Rue du chapitre and reached the adjoining church by a bridge.
There is a spiral staircase in one tower by which the clergy reached the bridge.
See the Baptistry at the entrance to the church, it comes from the former Church of Sainte Marie which was located at the castle and was restored in the 17th century.

The church holds the relics of Saint Valentin which arrived here in 1868 after a Catholic mission.
A rich vineyard owner acquired the relics after the terrible Phylloxera epidemic, however legend has it that the relics protect the vineyards.

The church holds a large number of paintings from many different schools and styles, including Caravaggio, Velasquez (Christ on the Cross), Grève…

The round window is original from the start of the construction but the other stained glass appeared in the 19th century.
Note the presence of Saint Ludivicus who is none other than Saint Louis.

The Baroque organ was crafted in 1690 by the Frères Julien in Marseille, and is a historical monument. The famous Christmas Carol "Minuit chrétien" was played for the first time in 1847 on this organ.
The lyrics were written by a Roquemaure citizen, Placide Cappeau, who was close to the Félibrige movement and its founder Frédéric Mistral.
The music was composed by Mr Adam, and the singer was Mme. Laurey, wife of Mr Laurey, an engineer from Paris who worked on the suspended bridge and was a friend of Placide Cappeau.
Collegiate Church of Saint John the Baptist and Saint John the Evangelist
Place Clément V
30150 Roquemaure
Opening : From 01/01 to 31/12, daily. Information from the Tourism Office: 04 66 90 21 01.
Spoken languages : French