Church of Saint Thomas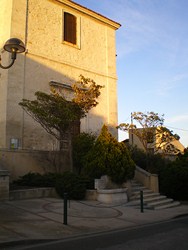 Built on the same spot as the previous church, construction got underway in 1765.
The sturctural work was finished as scheduled, by December 1767. The layout of the church building was designed by the famous architect Franque. The church is in the shape of a Greek cross, unique in France. There are some churches in Rome which have a similar design. The Church of Saint Thomas has been listed as a historical monument since 1934.
Church of Saint Thomas
Place de l'église
84270 Vedène
Spoken languages : French